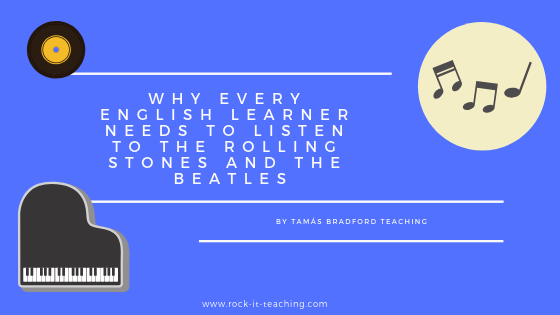 Why every English learner needs to listen to the Rolling Stones and the Beatles
Level A2 / B1
Hello, today we're going to look at two of the best bands the British have ever produced: the Rolling Stones and the Beatles. In this blog entry we will look at why all of you should look at them. Let's go going!
 

Raw Rolling Stones

Beautiful Beatles

Band members

Numerous; core members: Sir Mick Jagger, Keith Richards, Ron Wood, Charlie Wyatt

Core members: John Lennon, Sir Paul McCartney, George Harrison, Ringo Starr

Active years

1964 – present

1962 – 1970

UK No.1s

8

17

Type of music

Early years: R 'n' B (Rhythm n Blues),

Later: Rock 'n' Roll, Rock, Pop

Early years: Skiffle, R 'n' B (Rhythm n Blues), 

Later years: Rock 'n' Roll, Rock, Psychedelia, Pop

Which topics?

Numerous for example sex, slavery, drugs

Numerous, but mainly: love

Language used

Rebellious, improper use of English

Emotional, Easy-to-understand, 

Cultural effect on UK

World-famous, Multiple albums and singles No.1., Mick Jagger knighted 

World-famous; Famous album from 'Abbey Road' reproduced; one of the most famous road crossings in the world; Multiple No1s; McCartney knighted

My personal favourite song (s)

Brown Sugar, Little Red Rooster

Get Back, Day Tripper
Just from the table above, you can see that these two bands have over 20 combined British No.1 singles. They are known all over the world and, even though the Beatles may not be producing any music anymore, are still two creative masters of music.
Raw music
Normally, we all like our food cooked. But when it comes to music, this can be different, whoever you talk to. If you listen to the Rolling Stones, most of their music is raw and uncooked. The music is edgy, the topics are varied. Take for example (I Can't Get No) Satisfaction. This song is a story about someone (probably a man), who is unhappy about all his choices. It doesn't matter whether it's the cigarettes he smokes or the women he chooses to see, there is no satisfaction in anything, perhaps a comment on young people's view of society and the world. Take the Stones' No.1 single and one of my personal favourites: Little Red Rooster. On release, people talked about it for weeks as it felt it was about more than a rooster. Some commented that this song was probably about having sex… 
Cooked to perfection
If the Stones are raw, the Beatles, on the other hand, are cooked to perfection. Their music is often smooth, easy to listen to and pulls listeners in very quickly. Take for example their second No.1 from the year 1963: She Loves You (lyrics). It talks of a man who thinks the love of his life has gone, but it turns out she stills love him. The theme of love is evident many Beatles hits for example Can't Buy Me Love, I Feel Fine. One of my personal favourites, however, is a little more uncooked and a bit like The Rolling Stones' songs: Day Tripper. The guitar riff played by George Harrison is raw, edgy and unlike other Beatles releases.
Cut to perfection or rebellious?
Looking at their outfits, the early outfits of both bands were cut to perfection. Both bands wore suits that made them look very good. But, in later years Mick Jagger started to show his inner self by wearing more vibrant colours for example in this video of Brown Sugar. What is a common theme, though, is that all members of the bands decided to grow their hair long – a part of the culture of rebellion in the '60s.
Play-acting or keep it simple?
Most bands starting off in the '60s were encouraged to keep their dance moves to a minimum. You can see this in early releases of both bands. Their steps are very simple and nothing too hard to follow. But looking at releases from the Rolling Stones from the mid 60s onwards, Jagger pulls more difficult moves and it looks like he's play-acting. Check out this release from 1965: Get Off My Cloud. Jagger and Richards are trying to show off some very arhythmical dance moves. The one man keeping it very cool is Brian Jones just playing his guitar while moving his head very slightly with the rhythm.
Have you got any questions? Don't hesitate to send me an email, NOW!
Luscious language vs Raw Rebellion
And now we come to the most important part: the language. As we said above, the topics are varied. Many Beatles songs were about love, and therefore the language shows the use of vocabulary connected with love: 'love' and 'diamond ring'. The Rolling Stones wrote songs not only about love, but other more intimate aspects of '60s life, for example sex and breakups. We can see examples of that as in titles of songs like 'Let's Spend The Night Together' and an indirect reference to breaking-up in 'Last Time'.
Culture
Whether you like your music raw or cooked, both bands have had a huge influence on British (and other) culture. The former flat and pub where the Rolling Stones used to live is now a record shop, which is visited by hundreds of people every year. Further places that might be of interest to you are Ken Colyer's Studio (where they originally rehearsed back in 1963), the Flamingo Club (venue of their first gig in January 1963) and Sticky Fingers (an American diner restaurant named after the Rolling Stones famous album). The Beatles have also heavily influenced British culture. In their home city of Liverpool, you can go on Beatles sightseeing tours. One tour named after the Beatles album Magical Mystery Tour takes you to the band members' homeplaces and finishes at the Cavern Club, where the Beatles played when they first started off. The world-famous zebra crossing outside Abbey Road studios, London, is visited and crossed daily by hundreds, if not thousands. This is the same crossing on which the Beatles were photographed for their 'Abbey Road' album. And finally, the famous picture of a tongue (used for the Stones' Forty Licks album) has been reproduced thousands of times.
As you can see, these two bands are pillars of British popular culture and provided a base from which later bands gained creative inspiration and produced new sounds.
Sources
Below you'll find a vocabulary list for words you may not understand