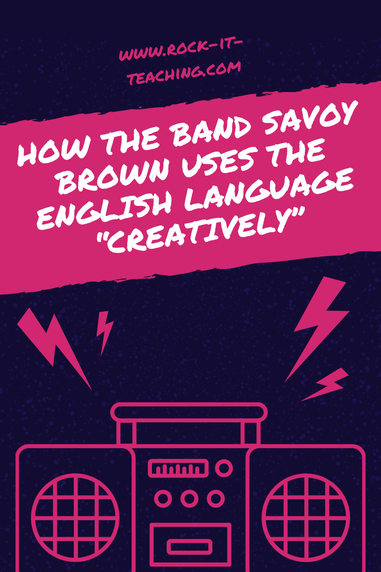 Hi there! Welcome to the latest episode in my music blog. Today, we're going to look at Savoy Brown, a brilliant British blues-rock band, and their album Blue Matter from the year 1969. This was a time when blues music was being revived in UK, with white rock musicians discovering and drawing from traditional African-American musical genres (blues and soul, for example) and mixing these with a much harder electronic rock music produced in the recording studio. Savoy Brown are one British example of this fantastic fusion of styles that we will also examine in more depth in later entries.
So, let's not waste time and let's start to listening to the album:
I chose this album to show the irregular use of contracted forms and silent letters in spoken English.
The band
There were seven member of the band on this album. The two mainstays of the group, Chris Youlden and Kim Simmonds, occupied the two lead roles – the former lead vocal, the latter lead guitarist. Dave Perrett, who would later have a successful career with the band Foghat, played rhythm guitar. Rivers Jobe and Roger Earl were the bass players.Piano was played by Bob Hall. The most interesting thing about the line-up is that Perrett took over as lead singer on the final three live tracks of the album because Chris Youlden was ill. The use of seven musicians for this album was typical of bands at the time.  Some of those who featured were only session musicians, who stood in as last-minute replacements or had a specific talent, for example someone playing a trombone.
Awesome acoustic - misused grammar
But that's enough about the band for now, let's focus more on the music and the language used.
We can hear in this album some top-class acoustic playing like in 'Train To Nowhere' Lead singer, Chris Youlden's voice is almost nasal but hits the notes perfectly and gives the song its complete roundness and shape.
'Tolling Bells' has a beautiful acoustic piano riff being played under Youlden's ice-cool murmuring voice, which erupts with emotion in the middle of the track, something that can't be described in words. It is necessary to hear it to understand and appreciate the complexity. In both of these songs, Youlden is hard to understand because like most Brits he mutters a lot. 
Rip-rawing riffs, luscious licks and closer look at tenses
In order to produce a stunning blues-rock album, we also need to hear powerful rock music incorporated as well. Savoy Brown do this perfectly. As this album is a mixture of studio and live songs, the band are forced to lengthen their songs somewhat.
We can hear the riffs in all songs, but in particular in the song 'Vicksburg Blues', which has a stunning piano riff.Find here the lyrics to this song: https://genius.com/Savoy-brown-vicksburg-blues-lyrics. Here we can also observe contracted forms of the English language: 'I'm leavin' town mama / I'm goin' to Vicksburg mama'. (One example of present continuous and one example of 'going to' future).
The cover of John Lee Hooker's 'Don't Turn Me From Your Door' has an exquisite riff that opens the song and it can be heard throughout the song. 
The song 'She's Got A Ring In His Nose And A Ring On Her Hand' features one of the best blues licks of the 1960s. It's a simple lick that moulds the song together Youlden's almost hypnotic repetition of 'Ring On His Nose And A Ring On Her Hand'. 
In terms of language, a lot of musicians use spoken slang for songs such as: 'ya' instead of you as you can by following the link for the lyrics: https://genius.com/Savoy-brown-shes-got-a-ring-in-his-nose-and-a-ring-on-her-hand-lyrics
The live rendition of 'Louisiana Blues' is pure blues-rock – has a backing riff typical of blues music, which is amplified electronically to make it rocky. The song is up-tempo and is appreciated by the live audience who give a healthy round of applause at the end.
Brass-heavy accompaniment and shortened forms
Something which we pick up from this album is also something a little out of the traditional blues-rock genre – some brass-heavy accompaniment. This is symptomatic of the American soul music that was very popular through the 60s and beginning of the 70s. We see this in evidence in the song 'Grits Ain't Groceries'. Not only does it have the experimental use of brass, but typical strong blues and rock influences. Finally, here are the lyrics to this song: https://genius.com/Savoy-brown-grits-aint-groceries-all-around-the-world-lyrics. Yet again in this song we have example of the creative but irregular use of English grammar: 'Woman 'til I die / Fightin' lions with a switch / Grits ain't groceries'. 
Critique?
Online database, Allmusic, classed this album as 4 ½ stars out of 5. They also say that the album cover picture makes this album stand out from other contemporary blues musicians or artists. Other music critics said that the opening track of the album 'Train To Nowhere' was the model Savoy Brown song.
Scintillating album
Personally, I love this album. It really depicts the transition between blues and rock at the end of the 1960s. All the songs were creatively put together and the vocals of Chris Youlden, are perfectly set to the melodies playing underneath it. My personal favourites on this album are 'Vicksburg Blues' and 'Grits Ain't Groceries'. The former is a traditional blues song put together with not a hint of rock to be seen or heard. 'Grits Ain't Groceries' is exactly the opposite – featuring the bruising brass accompaniment and scintillating blues and rock influences. This album is perfect for those of you looking to delve into both the blues and rock genres.
Language summary
In this album, you may have learnt numerous different types of contracted forms and silent letters. Here they are again to re-cap:
Don't worry if it don't pass you by' – Don't worry if it does not pass you by
'If you ain't got money, don't despair' – If you do not have money, don't despair
 'I gotta got a feelin' – I have to get a feeling 
 'I gotta feelin'… the bells are ringin' for me' – I have a feeling… the bells are ringing for me
'I'm leavin' town mama / I'm goin' to Vicksburg mama'' – I'm leaving town mama / I'm going to Vicksburg mama
'Ya' – you
'Woman 'til I die / Fightin' lions with a switch / Grits ain't groceries' – Woman until I die / Fighting lions with a switch / Grits are not groceries.
Please comment and share this with friends and family, as it is a real feel-good album.